Painting by Henry Warre

Oregon City
Founded in 1842 near where the Willamette River flows into the Columbia River, Oregon City was the first territorial capital of Oregon.
Always a natural place of commerce between Indians and whites, the town also utilized the nearby river as a dependable source of power for mills for its economic development.
Due to the great migrations along the trail, Oregon City grew rapidly as an economic center of the territory. Emigrants arrived here at the end of the trail to establish their land claims in the region.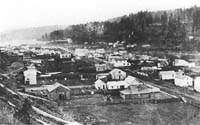 Photo by Lorenzo Lorrain (1857)
Local industries sprung up to resupply emigrants planning to start their farms. Today, the city is a suburb of the much larger city of Portland, Oregon.