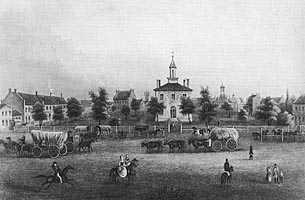 Engraving by Edmund Flagg (1855)

Independence, Missouri
Founded in 1827 near where the
Missouri River flows into the Mississippi, the town of Independence grew rapidly as a trading post. By the 1840's, it was the most popular "jumping off" point for pioneers to stock their wagons with supplies before heading out to Oregon or California.
Missionaries from the Church of Jesus Christ of Latter Day Saints attempted to make Independence their Zion, or holy capital. But the Mormons came into conflict with the local economic and political establishment, and by 1833 the missionaries were driven out. From then on, Nauvoo, Missouri, instead of Independence, became the point of departure for Mormons heading out along the Oregon Trail.